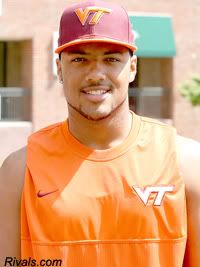 When Brookville defensive end Zack McCray told Virginia Tech defensive coordinator Bud Foster last week that he wasn't going to attend the school's one-day camp on Saturday, the coach sent him a note with a simple request.
"Come on," it read.
So imagine Foster's surprise when McCray walked onto the practice field Saturday decked out in Virginia Tech clothes.
Foster stopped the drill he was running when he saw McCray. That's when the player handed the note back. Under the words Foster had written were two more from McCray.
"I'm coming."
Those two words signaled one of the biggest coups in the young recruiting season.
Read the rest of the article at the link below
Zach McCray - Lynchburg Dispatch Article