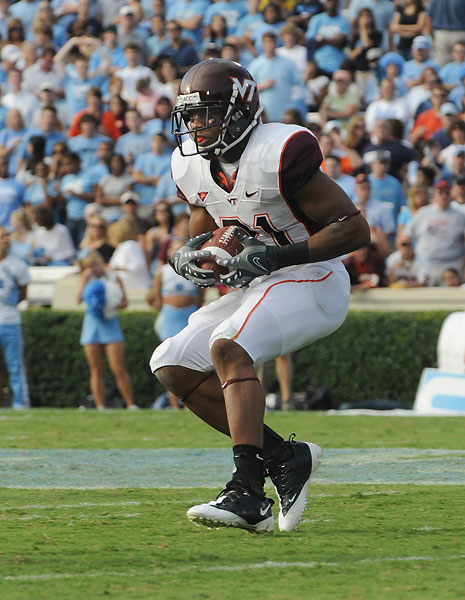 If you're looking for a recruiting success story, then look no further than the Hokies own Jarrett Boykin. The Virginia Tech coaching staff was high on his high school teammate, Eddie Whitley who dazzled the scouts earning First Team All-District player in his junior season at Butler High School in Matthews, North Carolina.
However, after Whitley committed to the Hokies, he told the coaching staff to take a peak at Butler's 6'2" wide receiving prospect. That prospect was Jarrett Boykin.
Jarrett was an unknown to most college coaching staffs, only holding an offer from Appalachian State until the Hokies came calling.
"Jarrett was a guy that really grew on us," offensive coordinator Bryan Stinespring said. "We just felt there was a great upside to him. There's a size factor there. He can run. And he's got a great set of hands."
And grew on the coaching staff he did. Boykin finished his senior year with 60 catches, 1,252 yards and 17 touchdowns to go along with 8 rushing touchdowns as well. That, my friends, is the exact definition of a beast.
"He didn't pop out really until his senior year," said wide receivers Coach Kevin Sherman. "Then everybody started to see what type of athletic ability he had. He has great hands, loves football, is tough and physical."
Coach Sherman offered the talented wide receiver prospect in mid-October and just a month later, Boykin was a Hokie.
...
With only three games left in his Sophomore season, Boykin has already amassed himself quite a career here in Blacksburg. The former 3-star prospect has a total of 60 receptions, which ranks him at 27th on the Hokies All-Time receptions list. He also has 992 career receiving yards, which puts him at 24th on the All-Time receiving list.
With three games left, odds are that Boykin will add about 150 or more yards to this, maybe a couple of touchdowns as well as 10 or so more receptions. If that is the case, Boykin could enter his junior year as high as 18th on the All-Time receptions list. That's not bad for a kid that only received scholarship offers from three division one schools.