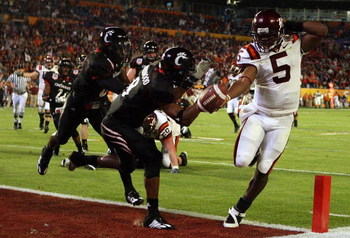 With just 17 days left until the first game of the college football season, it's time to take a look at week one of the Atlantic Coast Conference's schedule.
South Carolina at NC State - Sept. 3rd
The Wolfpack come into this season with relatively high expectations for a team that finished 6-7 last season. Russell Wilson returning for his sophomore season is one reason why expectations are high for Tom O'Brien's group. Wilson had a resounding freshman campaign and fans are already starting to pencil him in for ACC POY in 2009. Russell finished last season with 17 touchdowns to just one interception.
However, the Pack will be tested right out of the gates as they face an improved Gamecock team. USC finished 7-6 last season but only returns 10 starters on both offense and defense. Not to fear Gamecock fans, thanks in large part to some good recruiting efforts, USC should be fully loaded and ready to play come September.
This game will be a defensive slugfest early on but I would expect a decent amount of scoring with Wilson behind center for NC State and Stephen Garcia at QB for the Gamecocks. If NC State can take care of the ball I think they'll win by 7 to 10 points in this one.
Prediction: NC State - 23, USC - 17
Northeastern at Boston College
After a run of two straight trips to the ACC Championship game, Boston College is in for a long year. Not only did they lose a few talented seniors, they also lost their starting quarterback Dominik Davis who decide to transfer after being suspended and their best defensive player Mark Herzlich due to a Ewing's Sarcoma (a rare cancer).
So needless to say, The Eagles are going to have a tough year in 2009. The good news for BC fans is that their schedule is manageable and 6 wins is not out of the question. Their out of conference games feature Kent State, Northeastern, Central Michigan and Notre Dame. BC could go 3-1 there then a 3-5 finish in the ACC would be good enough to get them to a bowl game in December.
This matchup between Northeastern and Boston College could be one to keep an eye on especially with only 12 returning starters returning from last years Eagles team. However, I would expect BC to find a way to win by at least a couple of scores and move on to a bigger game in week 2.
Prediction: Boston College - 31, Northeastern - 0
Middle Tennessee St. at Clemson
No hype, no expectations, no worries. I'm sure that's how Dabo Swinney likes it these days. After last years debacle against Alabama in the Chick-fil-a kickoff, Clemson never rebounded and finished 4-3 in their last 7 games under Coach Swinney.
This year, for Tigers fans there is reason to be excited as Clemson heads into this 2009 season with little expectations but a whole lot of promise. With two good quarterbacks, three good running backs, and an improved offensive line, Clemson should be able to hang with anybody in the country. The biggest question mark will be can Clemson finally get over the hump and challenge for an ACC title?
That question could be answered after the first week against Middle Tennessee State. MTSU will be a middle of the road Sun Belt team again this season so Clemson shouldn't struggle in this game. With the Tiger's speed I wouldn't be surprised to see this one end early, and I mean real early.
Prediction: Clemson - 51, MTSU - 13
Richmond at Duke
Sadly, this could end up being the game of the week in the ACC if something happens where the CFA kickoff turns out to be a blowout. Duke is coming off their best season in long time as they finished 4-8 last year. Richmond is coming off of a National Championship year in the FCS.
The Blue Devils should be on par or slightly improved this season although they did lose a little bit of fire power in their passing attack last season after Eron Riley graduated. However, with Thaddeus Lewis back for his senior year, anything is possible from this Duke team.
This game could come down to who has the best athletes and in this case, it could be a close game. Duke is close to taking that next step as a division one program but they're not quite there yet. If Richmond plays well, the Spiders could have a shot at upsetting the Blue Devils, but with Coach Cutcliffe in charge in Durham, I just don't see that happening.
Prediction: Duke - 27, Richmond - 24
Jacksonville State at Georgia Tech
Coach Paul Johnson's first year at Georgia Tech was a success as the Yellow Jackets were a win away from possibly their first ACC crown since the 1990's. This year, GT has a lot to look forward to as they return 16 starters on both offense and defense.
However, the one thing Paul Johnson will have to change in his offensive system is the way the Yellow Jackets throw the ball. Georgia Tech lost a couple games last season on their inconsistent passing attacking. If they can throw the ball consistently, this Yellow Jacket team may be the team to beat in the Coastal.
Jacksonville State heads into this matchup with not much of a chance to stop Georgia Tech's rushing attack. The FCS team may be able to move the ball some against the GT defense but defensively, they just won't have the horses to stop Paul Johnson's offense. Unless they turn it over a lot, expect this one to be a blowout.
Prediction: Georgia Tech - 44, JSU - 3
Maryland at California
Maryland was easily the most unpredictable team in the nation last year they finished 4-1 against top 25 yet lost to UVA and Middle Tennessee State. If Maryland can regain some consistency, they could have another successful season in College Park.
With only 10 starters returning, another 8 win season may be too much to ask for Ralph Friedgen's group. However, The turtles will be able to make a splash week one if they can head out to California and finish off a two year home-and-home sweep of the California Golden Bears.
This is a revenge game for Cal as they lost to Maryland 35-27 last year in College Park. With a suspect offensive line and an average at best defense, it's hard to declare that Maryland has much of a chance in this game. If Cal plays well, they'll walk away victorious in this one.
Prediction: Cal - 27, Maryland - 17
The Citadel vs North Carolina
The Tar Heels were arguably the most improved team in the ACC a year ago but now with Butch Davis facing some higher expectations in 2009, the question remains whether or not the team can live up to it's billing. North Carolina will have a stout defense in 2009 but the offense has plenty of question marks.
TJ Yates returns along with both Houston and Draughn in the backfield. The biggest question lies at wide receiver where UNC will have to replace Hakeem Nicks. Greg Little is the only wideout that returns with any past experience and even he was a running back at this time last year.
However, UNC has doesn't have an overly tough out of conference schedule even though the trip to UCONN could be a bit tricky on week two. The Citadel won't provide much of a challenge week one as UNC's defense alone could and probably will outscore them.
Prediction: UNC - 45, The Citadel - 0
William & Mary at UVA
Sadly, I'm going to have to put UVA on upset alert here. Now, I'm not doing this because I despise UVA, I'm doing this because I'm not really sure how UVA plans on scoring this fall. With Vic Hall taking over at quarterback, UVA could take a large step back in their passing attack, which was already average to begin with.
Even though I love Al Groh, I'm starting to think UVA fans are starting to see the light that he is clearly not going to be able to fix any of their problems. If UVA cannot win 7 games this year, I have a feeling Mike London may be the coach on the sidelines for UVA next year.
Talent-wise UVA should win this game and win by at least a few scores but with a new offense and a less than stellar defense, anything can happen. William and Mary isn't exactly cream of the crop in the FCS but they could put up a fight for at least half the game. I'm going to take UVA here but I wouldn't bet the house on it.
Prediction: UVA - 24, W&M - 6
Baylor at Wake Forest
After winning the 2006 ACC Championship, Wake has slowly faded out of the ACC picture over the past few seasons. This year, Wake could fade even more out of relevance in the Atlantic Coast Conference.
Now to be fair, Wake does have a good chance at winning 7 or 8 games this fall. However, they have a lot to replace. And when I say a lot, I mean a lot. They return senior quarterback Riley Skinner but outside of him, Wake doesn't have a whole lot at the skill positions to work with. Defense will clearly be Wake's biggest weakness as they don't return much outside of the defensive line.
With their first three games being in Winston-Salem, Wake Forest will have a few games to mature before having to leave home. However, their first two games are against Baylor and Stanford, both teams that could beat Wake Forest this year. Baylor is a team on the rise and would have to be favored heading into this matchup. Coach Jim Grobe is one of the more respected in the ACC and his reputation would increase with another 8 win season but I just can't expect that out of this group.
Prediction: Baylor - 31, Wake Forest -20
Virginia Tech vs Alabama (Atlanta)
The game of the century, or that's at least what it feels like after the Hokies won the Orange Bowl last season. However, with Evans now out for the season, that blow could be enough to sideline the Hokies chances in this game.
Alabama returns 9 starters on defense including one of the nastiest front seven's in the nation. If the Hokies are going to win this game, they will have to play well defensively and score on any and every opportunity they get.
The Crimson Tide isn't exactly going to get off the ground running this year like they did last year, but they will be just as talented. If Alabama plays turnover free ball and plays well defensively, they will win this game. However, with a new quarterback and a few new offensive linemen, it's hard to say if that will happen or not. Either way, I just can't pick Virginia Tech here with their 1-32 all-time record against the Top 5.
Prediction: Alabama - 21, Virginia Tech - 17